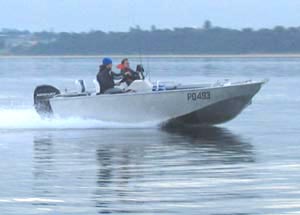 4.85m Adventurer:

Side Console or Tiller, these "Adventurer" range of vessels are made from all 4mm 5083 grade aluminium and are versitile and tough. With a reverse chine, fine entry and excellent inherent stability, these vessels are the ideal choice for bay, estuary or lake boating and fishing. Layout can be tiller or side control, and with a forward casting deck, the vessel has plenty of underfloor storage. Up front, 2 x 78 litre and 1 x 51 litre poly heavy duty "Nally" crates are fitted. And moving aft, the rear seat storage area also contains poly boxes on both the port and starboard sides. Marine carpet covers 12mm Marine Ply for the decks while underfloor a 60 Litre fuel tank should have the capacity to keep you fishing for a long time, and get you back with plenty to spare. Full length shelves allow for those extra items you always need a place for.

If you are interested, please contact John on (03) 9555 6399.

Click on the picture, (left) -SOLD- Page is in PDF format.